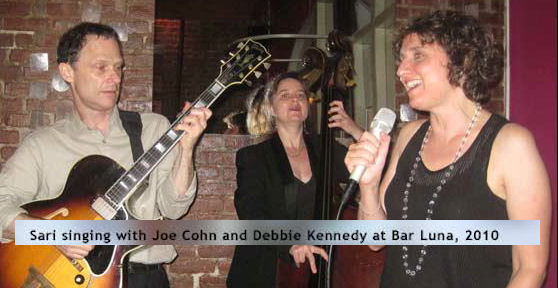 Show Date: Wednesday, June 27, 2012
Listen in as we continued our summer music series by having a real live chanteuse talk to us about her gigs, talents, capabilities and favorite things.  Join live at noon on Wednesday, June 27, 2012 as Sari Kessler fills us in on why having a live vocalist during an event, cocktail party or throughout the evening can really change the dynamic of your musical line up.  A jazz standards lover by nature, she gabs duo, trios and quintets, then tells us about her Hebrew singing and her Basanova to R&B range.
__________________________________________________________________
Interview with Sari Kessler
Introduction
C&G:
Good afternoon, thank you for joining us for C&G's weekly show. It's Wednesday, June 27th and we are live today with another wonderful guest for the continuation of our Summer Music Series. I'm thrilled with the continuity of our conversation and very lucky to have such adept, wonderful musicians and talented performers who are willing to share their experiences and expertise with us as we really try to establish what makes for a great music setup—whether it's for cocktails, an event, a wedding, a not-for-profit or for any kind of evening or afternoon. And today we've asked a wonderful guest, with a very particular talent, to join us to talk more about the cocktail music chanteuse jazz style of things, in contrast to more of the ceremony music that we talked about last week with the wonderful director and coordinator of Venus Ensembles. So today I'm very lucky to be joined by Sari Kessler. Sari, thanks so much for coming on.
SK: Thanks so much for having me.
C&G:
It's truly a pleasure. I was very fortunate to see you perform live and I was so obviously touched by your talent, but also there's a softness and graciousness that comes through when you're performing that's endearing and wonderful. So can you tell us a little bit about yourself and how you got into doing this.
SK:
Oh sure. Well I've always loved to sing and I sang all the time as a kid, particularly in my bedroom listening to the soundtrack to Fame and Billy Joel and music like that. I sang in talent shows, in a pop music cover band when I was 13, in a high school choir, and it never occurred to me to sing professionally at that time. I didn't see a career path at that time, particularly because I grew up in an upper middle class Jewish family where there were two professions open to me, which were doctor and lawyer. I chose to become a doctor. It was later that I realized I could start singing professionally. It was one of my teachers who suggested it and really encouraged me.
C&G:
That's wonderful. Since you did become a doctor, how did you really make the transition into singing? What was the first thing that you did publicly?
SK:
Well my first career- singing is my second career- is as a clinical psychologist. I got a Ph.D. in clinical psychology, and while I was in graduate school I was studying voice and my second voice teacher suggested that I do it professionally. And she gave me my first job singing background vocals for a demo that she was submitting for the Miramax Film archives—that was a thrill—and then I just started preparing myself to do gigs; learning repertoire, working on technique, all while I was working on my Ph.D. Then I recorded my first demo and started getting gigs in restaurants in the city. I started doing club dates and pop music is what I really started with.
Performance Style
C&G:
Well it's so interesting because I talked about how peaceful it was to listen to you, so soothing. Regardless of the tempo of the music and what you were actually performing, and maybe it's the clinical psychologist in you coming out and calming the crowd, so to speak, because that's exactly how I felt—very calm, very at peace and the place in which I saw you perform was a loud, noisy venue so it was just amazing how you were able to come across over everybody. It was so beautifully done. And that's one of the reasons I wanted you on the show today. Because it's very rare at many weddings or events, especially smaller functions, that people think to bring in a live singer, or a chanteuse; they often will just go for instrumentals. And one of the things that I think is really important for people planning events to consider, is there is that wonderful element of having a real live performer. Someone to watch, someone to talk about, someone to engage with, and that is a very special thing. And it's great for our listeners to be able to hear about you and to hear your music. What I'd also like to do is make sure that everyone knows your website, which is www.sarikessler.com because on your website you have a whole list of your performances. So when you perform for more private events, especially a lot in the Hamptons, but also all throughout the city, which is actually where I saw you perform, how does it work? Do you prefer performing as a duo, a trio? Because I know there are many incarnations of how you can perform.
SK:
Oh sure. We can provide a duo, trio, quartet, anything up to 10 pieces or more. Whatever people want. Say they want to focus on big venues, then we'll of course bring in horns, or if they want to focus on Bossa Nova, Brazilian music, we might bring in a percussionist. And I like working with larger bands. Sure it's a lot of fun to work as a duo, but it's even more fun to have a quartet with a drummer and maybe a quintet with a saxophone. People might want to add a trumpet as well.
C&G:
That's why we do these shows. Because I didn't even know you could do larger, much larger, groups, which is great because one of the conversations that we've had in the music series so far is this idea of having the same music with a quartet for four hours. It gets tired and it's really hard. But if you can expand on the number of pieces and number of musicians, I would imagine it gives a little more breadth and more depth to the types of music that you can do. You could really start off in a cocktail setting and then expand the group as you go out throughout the night and the rest of the hours there.
SK:
Oh yes sure, you could mix it up. I mean for a cocktail hour you could have two or three pieces and just focus on Bossa Nova and samba, for instance.
C&G:
So on your website, just going back, it seems like you have a little group that you put together, I don't know if it's an album or a recording track, but in that sort of incarnation you've got piano, guitar, bass, drums, and then you. So in that case you've got that quintet. Is that more of your standard group?
SK:
Well a lot of the gigs that I do, in the city for example, are in smaller spaces, so a lot of those gigs are duos and trios, but yes I would say typically it's either keyboard or guitar in the city, and bass, and if we're lucky enough to have a bigger space, then drums too. But for private events, it's always either guitar or piano, with bass and drums, unless somebody wants something smaller.
C&G:
Got it. Now two separate questions: what's your favorite type of music to perform and what would you say you perform the most?
SK: Jazz standards would be the answer to both questions.
C&G:
Wow, that's so ideal to love the ones you do the most. And so when you're doing jazz, one of the things that I also found really interesting, when I was hearing you perform I wasn't necessarily familiar with all of the music that you were doing. Now is that just because I'm a total novice, although I do get out a lot, or it because you're very selective in doing things that are a bit more off the beaten path?
SK:
Yes that's a good question. I mean, some of what I'm doing are things that people have heard lots of times before, but I also try to sing songs that are lesser well-known gems, if you will, so for a more jazz audience that's what people would like to hear. At my gigs, there's probably a mix of people coming, so people who are less knowledgeable with jazz may want to hear more of the well-known songs.
Performance Logistics
C&G:
And I was going to eventually ask you this, but I'll ask you now and give you time to think about it: what is the most exciting performance you've done in the past year and why. But before we get there, what would you say, more often than not, is the amount of time you're performing? Is it 2 hours, 3 hours, 4, hours?
SK: Usually I'd say about 3 hours is the mode.
C&G:
And you know one of the things we've talked about is, just from a practicality perspective, if someone's hiring and wants someone who can do that wonderful jazz trio for the cocktail but they don't want to hire another group for ceremony would you have any capability to translate, whether it's through the keyboardist doing more of the recessional/processional, to a more unique set up so that they aren't having to hire two separate groups?
SK:
Oh there's absolutely no reason to hire two separate groups. We could actually potentially do classical music for the ceremony. I actually just booked a wedding and I was suggesting perhaps guitar and flute for the ceremony. So I mean, yes, for the ceremony it could be classical, we could do jazz.
C&G:  And have you ever had an occasion to sing at a ceremony?
SK: I have not.
C&G: Well and maybe that's what we should be working towards after today's show, finding an opportunity!
SK: Well sure, that's a possibility!
C&G:
That's great, we'll work on that. So in terms of the performances, as I mentioned, you do a lot out in the Hamptons as well as a lot in New York. How far are you able to travel or how far would you like to travel outside the city, for those who might be listening from a little bit farther out than the tri-state area?
SK:
You know, 2 or 3 hours is okay, but usually there's a travel allotment if people want us to come further.
C&G:
Sure, absolutely. And when you work with larger groups, whether it's a quintet or 7 or 8 pieces, are they people with whom you've worked before, that you're very familiar, so it's not a matter of just bringing in random musicians?
SK:
Yes, it's always people that I know or that I've checked out, if I haven't worked with them, but mostly people that I have worked with.
C&G:
Right, which is great. As I mentioned, some of the guys that you've mentioned—Randy and Keith and Matt—those are your more standard go-to guys.
SK:
Yes, and there's a whole group of core musicians that I draw from. In Manhattan we're so lucky to have so many wonderful, incredible players.
C&G:
Absolutely. And going back to that, what was the most exciting or unique event that you've done in the last year? Something that was maybe out of the ordinary, that took you out of the mode of what you'd be used to?
SK:
Well this wasn't in the last year, but there was one gig where I felt a little bit like a rock star and that was really fun. It was a New Year's Eve party.
C&G: Really! Where was it?
SK:
It was actually out in the Hamptons and everybody was dancing. It was really fun.
C&G: And was it an all-night thing?
SK:
Was it all night? I don't remember it being all night, maybe we shut down at 2?
C&G: Wow. And how many musicians did you bring?
SK: I think that group was 5 people.
C&G: Wow. And you were performing jazz standards?
SK: It was a combination of sort of Motown-y R&B stuff and jazz standards.
C&G:
Well that's something we haven't talked about yet—the Motown and the R&B. I guess maybe you can also give us a range of what you are comfortable doing. We know jazz standards are your favorite, we know that's what you do more often, what's the range that you can operate? Whether it's that you're comfortable, that you do it a lot, that you know it inside and out. Motown, R&B, jazz…?
SK:
Yes I would say that covers it. I don't sing contemporary pop, I don't sing more of the contemporary R&B, I do sing some of the older stuff.
C&G:
And when you sit down with a client for a private event, do you walk them through what it is? Do you have a song list? Do they select the music or do you just do it and come and say, "I've got this"? What's the rapport?
SK:
I do have a song list that people can come and take a look at and check off what they absolutely want to hear or absolutely don't want to hear. Then sometimes people just give me the space to make set lists and sometimes they have more input. It depends on the client.
C&G:
And I know it's really hard to talk about pricing because there are always so many factors, whether it's travel or the number of instruments, but for the purpose of giving our listeners an idea, can you give us an idea of the pricing, and again dates obviously matter a whole heck of a lot. I mean, you seem to be booked most of the summer already anyway. I actually have in mind a Saturday night event that we wanted to ask you about—August 18th—and then I'm on your website noticing you're booked the 17th and the 19th in the Hamptons!
SK: But I'm not booked the 18th.
C&G:
Maybe we can get you back in the city. Talk to me about pricing and how that might fall in most cases and also how far you might need to be booked out.
SK:
For a wedding it would typically be $800 per musician and then for a private event it's somewhere between $125 and $150 per hour, per musician. And in terms of booking in advance, if I'm available it can be last minute; I don't know that I need to be booked 6 months in advance. I mean, it can help for the busy months, but sometimes March is a busy month for me for doing other gigs, but is not a busy month for weddings.
C&G:
And do you have a favorite venue in the city where you just love to perform more than any other?
SK:
Well there's one place where I sing called Tagine, it's a Moroccan restaurant. I like the ambiance. Partly what I like about it is people are relatively quiet. You asked me about my favorite kinds of gigs and I would say that the kinds of gigs I like most are ones where people are focused more on the music and listening.
Benefits of live performance 
C&G:
And so I mean, obviously when we do cocktails, one of the things that inevitably happens is that everyone's talking and what's great about having someone who's performing live at a cocktail hour, this is a big thing that we tell people, is that it gives people an outlet to sort of stop, literally listen to music, and watch and have more of a performance feel to it. Sometimes people don't want to be talking for a full hour; they want to sit, they want to eat, they want to really revel in the space or the moment, so that's one of the big reasons we think having more than just instruments is particularly unique. And you don't see it happen much with weddings, contrary to popular belief. I mean I could tell you that it's probably one out of every 20 weddings that we do where we'll have a live vocalist during cocktails.
SK:
I've done a lot of cocktail parties. And I feel like I'm in a position where I can either provide background music or more of a performance; I can set the tone. And I think you were hinting at a question earlier: I think you were about to ask me what having a singer adds, and I just think because the lyrics tell the story, people can really connect with lyrics. It's so accessible to people. And then there's the human voice, the tone of the human voice, that we can all connect to. Partly what makes it interesting is that everyone's voice is a little different.
C&G:
I think that's great that lyrics tell a story, that's really interesting. And I am going to say that I was absolutely heading towards asking that. When you have any kind of live performance there are more layers to that performance, whether it's in instrument choices or in a vocalist, which is so important and gives an event a more unique place. It's like telling a story when we set up an event, and particularly a wedding, where you want every change to signify something different and something new. And it's one of the reasons I'd asked if you ever sang at a ceremony before, because being able to have that in both areas could be really wonderful. We see a lot more on the strings side, and ceremony music side, instrumental side, a blending of jazz with more traditionally classical instruments or blending of writing of new pieces that can be used in different places. So in the same vein I'd argue why couldn't we do that in the reverse and take that vocalist and put her or him back into the ceremony area, which we really love.
SK:
Absolutely. One of the things I can provide is Jewish music, you know, horahs, but I could sing Jewish music or Hebrew music during the ceremony. And at my own wedding, we hired a guitarist singer to sing as we walked down the aisle.
C&G:
Which is great! And I think that's an important point, especially because there are so many couples that don't necessarily want a klezmer band but would still like to celebrate the more religious aspects of a ceremony. And having someone able to sing in Hebrew is a huge plus! Why didn't that come up earlier Sari? That's great!
SK: I knew I was going to get to it.
C&G:
I love it. And do you, on your website, have recordings of that or if people wanted to contact you about that they could just get in touch with you directly?
SK:
Yes they could get in touch with me directly through the contact sheet on my website.
C&G:
When we were going into Motown and R&B I just felt that there was one more area we were missing—singing in Hebrew. Perfect! So, going back to your favorite spaces in the city, you mentioned Tagine and why that was so special for you. If someone wanted to come and see you perform live, how often do you perform? Especially for summer, I would really suggest that people check out your website and see your 2012 summer schedule because I have a feeling many of our listeners might just be in the Hamptons, and you're performing at so many places. Are they all public events that they can come and watch you at?
SK: Yes, most of them are.
C&G: I know when I've seen you it's packed to the hilt.
SK:
Yes we hit on good nights. I do a lot of winery gigs and some of them are very nice places to get married so it's sort of like killing two birds with one stone, if people want to come out to the east end of Long Island, some of them are quite beautiful. And I have quite a few of those coming up on Saturdays and Sundays and they're all listed on my website, they all say the name of the vineyard and then in parentheses say "on the North Fork". I've got maybe a couple of restaurant gigs as well, and everything's open to the public. If it's a private event, it would be listed as such.
C&G:
Right. And I do see one on the 21st of July that is, but the rest seem to all be open to visitors. Hearing you live in advance of hiring you is great because one of the big things I think is rare, and I just love that you do this, is that you are more out there. People want to know their musicians, they want to meet their musicians. They want to see how it's going to sound live, and that's a rarity, that's not something that everyone has access to, whether it's a band or a trio, or a duo, or a quintet. So I think the fact that people can come and sort of touch you and feel you and hear you in different spaces is really great. And then, come the fall, would you be back in the city more and put that schedule up?
SK:
Yes. As fall approaches I'll be booking gigs in the city and posting them on my website.
C&G:
Great. And we'll post for you on our Facebook page to encourage people to come out and hear you sing because it's such a wonderful asset. And in terms of one of the things you've liked to do that you haven't done, if you could sort of pick this moment to say what that is, whether it's instrumentation compilation or if it's music or if it's a venue. What is it that you'd love to do, musically speaking?
SK:
Well one of the things I'm working on is a CD so I would love to get that project moving forward a little more quickly and get that done and get it on my website and start getting it out there.
C&G:
That would be great for all of us. And performance-wise, is there something that you'd love to do that you haven't yet done?
SK:
Well I'm moving more towards singing in more listening-room jazz club venues in the city. A lot of the venues where I sing in the city are restaurants.
C&G:
So to have more of what you were mentioning earlier, to have more of that performance feature where people are really there just to listen to music rather than just have it as a wonderful background perhaps, which makes a lot of sense. I was tired watching you. It's hard work!
SK: It is hard work but it's fun work.
C&G:
Yes. And you seem to have a great rapport with the gentleman who you were with that evening as well, which makes it so important—that connection with the other musicians that you have.
SK: Absolutely.
How to book Sari for an event
C&G:
And generally when you have a bride and groom approach you, do you meet with them? Do you talk to them over the phone? What's your process? I say bride and groom but I guess I could say anybody—corporate, etc. Is your process to really meet with them or do you book a lot of your events without meeting with people.
SK:
You know I actually sometimes book events on email, that's how the world is now. But yes, when it comes to two people getting married, I like to meet with them. I prefer that. And if it's absolutely not possible then we can schedule a phone conference. But yes I meet with people. For a corporate event or a cocktail hour, something that's not a wedding, it's just not always necessary. Sometimes it's important for me to see the space in advance, sometimes not.
C&G:
And that was actually going to be my next question. In terms of amplification, in terms of equipment, what do you normally need? What do you have? Do you come with everything or do you need to pipe into a sound system at the particular venue? How does that work for you?
SK:
Well I have my own sound equipment. I've got one system for smaller spaces and then a system for larger spaces and if something bigger than that is required then I can rent that or borrow it.
C&G:
That's great, you really do come fully equipped. And at the end of the day your pricing is so reasonable, particularly for the "per musician per hour", I would argue that there's really no one who can't afford you. If they're having an event they can absolutely call you and hire you and ask you to show up for two hours, as I think I'm going to do as soon as our radio show is over, for August 18th. I'm going to try to convince you to come into the city and be with us on the 18th of August. Now is there anything that you think is important for couples to think about as they select their musical lineup? Whether it's a smaller event or a cocktail. Any wisdom that you would impart or any guidance that you offer when people come in and meet with you to try to figure out what is the best way for them to go. Do you have great words of wisdom that you generally will share or things that you think are important for people to consider?
SK:
A lot of people who book me actually have seen me live. It's the live performance that kind of spurs people to call me. But I ask people what kind of mood they want the band to impart. Do they want it to be fun, festive, upbeat or do they want it to be more dinner-ish; relaxed, cool.
C&G:
I will go back to that. I don't know anyone who makes it as easy to see them come and perform live so there's certainly no excuse. And when you talk about the ambiance and the mood, that's what really helps you to determine what pieces to select and what music to select, based on that?
SK:
That's partly it. It's helpful to know what genre of music people want. People typically know that I do jazz and some blues, some Bossa Nova.
C&G:
I feel like the more we talk on this show, the more hints you give us as to how wide your repertoire is, I love it. Now we're into Bossa Nova, to blues…from R&B and Motown, you even do Hebrew! You really do have such a wide range. I'm thinking, "What else does she do?"
SK:
Well Lady Gaga, Rihanna, probably not going to happen. Although, for the first dance song I let people pick whatever they want—as long as it's in my range.
C&G:
I love it! So we went from a list of sort of three genres, now we're at six. If we were to talk another hour, I have no doubt we'd be throwing in more than we could have imagined. You really have to do that CD to prove how vast your spectrum is.
SK: I'll take it on as a challenge.
Conclusion
C&G:
Oh good! And you know anytime you'd like, we're happy to post snippets or MP3 files or whatever it is on our Facebook to keep our listeners and our followers up-to-date on what you're doing and your sounds. I think that they're great and I really fell in love with you and your voice and your performance from the first time that I saw you. And I would encourage everyone that it's worth a phone call if they're even thinking about a vocalist and/or a smaller group or a larger group, as Sari obviously informed us that she can do. I did not know coming into this show that you would be able to do a 10-piece group, so I think that's wonderful to have that breadth and allows more flexibility to people. I would really encourage people to check out her website, again that's www.sarikessler.com, and Sari if you'll do us a favor, as your fall schedule in Manhattan becomes more readily apparent to you, put it on our Facebook page or send it to us to put on our Facebook page just so that our listeners continue to follow you. I think it's great advice because they do have a chance to see you perform, just do it, just go! You never know. And even if it's for a half-an-hour cocktail, maybe a rehearsal dinner—that's the other thing I want to suggest—I'm not a big fan of going all out all over the place for the rehearsal dinner, to crazy lengths, but music is essential so I really would encourage everyone to think about that. And Sari, a big thanks to you for coming on the show and being a part of our music series this summer and I hope we continue to have wonderful opportunities to work with you.
SK: Thank you so much for having me, it was really fun.
C&G:
Our pleasure. Everyone else, thanks for listening to the Black and White of wedding planning. We'll be on next week continuing our Summer Music Series, with a wonderful musician, who ironically has Klezmer as one of his specialties. So perhaps Sari, I'll have to get you and David Glukh together and maybe we could really get a vocalist in there with him.
SK: That sounds good.
C&G:
Alright. Have a great week, everyone! We'll be back next week at noon, as always.