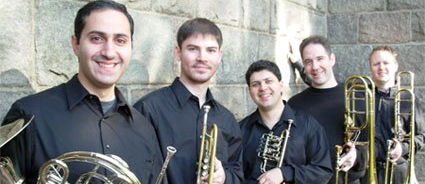 Show Date: Wednesday, July 11, 2012
As we have been discussing over the past few weeks in our Summer Music Series, if you can think it, they can play it – musicians from all walks have been talking to us about what they can do to personalize your event and tomorrow's discussion with David Glukh takes it up a notch. Join us live at noon on Wednesday July 11, 2012 as David tells us all about his brass quintet, his piccolo trumpet, his Klezmer Ensemble and everything else he can do that we can't.
Introduction
C&G:
Good afternoon. It's July 11th, 12:00, another Wednesday radio show as we continue our summer music series with another superb guest who represents a different genre of music than we've discussed to date on the show. So far in the Summer Music Series, we've been trying to go sequentially through an event, in particular a wedding, simply because it has the most components—more so than for corporate or non-profit events, if we imagine that a wedding starts with a ceremony, continues with cocktails and ends, eventually, with a reception or dinner. Today's guest is a little bit of the first two, and even some of the third. So we'll speak with David Glukh today of David Glukh Enterprises, who is an extraordinarily talented and—I hope he'll permit me to say this—trumpetist or musician, but I'll let him speak for himself. David, thank you so much for joining us on the show today.
DG: Thank you very much for having me, I appreciate it.
C&G:
I've always been impressed from the first day that I met you and then heard you play. Clearly, you're extraordinarily talented. Why don't we start by discussing what your instrument of choice is and also, I'd like to give guests David's website, which is www.glukh.com, for those who would like more information both about him and his groups. So, David, tell us a little about how you started, where your musical interests began and what your area of expertise is today.
DG:
Thank you very much. My instrument of choice throughout these years was primarily a trumpet, or, I should say, an array of trumpets. Within the trumpet family, you have many different trumpets, big and small. The smallest of which is the piccolo trumpet, which I'm sure we'll talk more about as we go along throughout the show. I started out playing at a young age, playing a recorder at age 6, eventually graduating to the trumpet at age 11. I've been involved with the trumpet ever since, for quite a few years now.
C&G:
And through quite a few countries as well; starting in Russia, moving to Israel, and finally, to our good fortune, landing in New York.
DG: My good fortune too.
Different bands, different genres
C&G:
What's wonderful about your breadth of experience and what I've really enjoyed from working with you—and I think is important for everyone to know—is you bring a lot of cultural emphasis into your playing, whether it's more of a Russian feel when we've done Russian weddings together, or perhaps more of a klezmer Jewish feel when we've done those weddings together. And obviously, with things like your very—and I use this word very lightly—standard brass quintet or horn quintet, you've really been able to pull in so many facets of music, both from a perspective of range and culture. That's something I love and something I really wanted our guests to hear about today. The great thing is, I'm always looking at the budget, I'm always looking at the bottom line. And what's wonderful about what you can offer is if we have someone who's listening saying, "I would love to have a piccolo trumpet for the ceremony. I would love to do a quintet for the cocktails and then move into maybe a little bit a klezmer, maybe a little bit of horns for the reception." What's great about your different groups, and you do have many—to name a few, the Klezmer Ensemble, the Manhattan Soloists, the International Ensemble, Wholly Brass, Watermelon Band, and we should talk about what the area of expertise for all of these is, is it allows for a fully functional event from start to finish where there's a change in music, which is something we've really tried to talk about over the Summer Music Series. You don't want to expose any of your guests, no matter how much they love klezmer or how much they love classical, to too much of the same thing for more than, in my mind, four hours. It really does get a little bit tired, and you want to change it up. What's wonderful about you is, you and I have done events where you've just brought the piccolo trumpet, which you referenced earlier. So many places to go with all of this information. Why don't we start with the different types of bands you have and what they offer.
DG: Sounds great, what should we start with?
1. Klezmer Ensemble
C&G: Klezmer Ensemble.
DG:
Okay, that sounds great. We have had Klezmer Ensemble or Klezmer Band since 2001. This is both a concert group, which performs throughout the United States and beyond. We've visited to date over 20 states in the Union and also other countries. We've recorded two full length CDs of our music. We also do a huge variety of different weddings and special events. Lately, we've done quite a few interesting things, including the wedding of the Tisch family, the owner of New York Giants, some weddings in the Hamptons, which included guests of honor Bill and Hilary Clinton, Caroline Kennedy, Commissioner Ray Kelly. It was very interesting.
C&G:
Tell us why it was interesting, David. What made those events more interesting? Was it the choice of music, or was it simply the variety of guests and certainly, the high level of those guests.
DG:
I think a little of everything you just mentioned. Certainly the high profile of the events made it somewhat special, but we enjoy playing all different kinds of events, not necessarily celebrity events.
C&G:
Well I can attest to that, as I'm certainly not a celebrity, David. So, for sure you do enjoy the other types.
DG:
Certainly, certainly. But what makes any event special are the fine details. The thing is, every event is really special because every event is not going to be the same. Every event is going to be a little different from one another. One of the things that I enjoy doing the most is the level of customization that we can offer our clients, in a company that's very small, and has musicians who are the owners of the company. There's no middle man, you're dealing directly with the people who are going to be performing at your event.
C&G:
One of the other things that I love about dealing with you, David, is that I've been working with you for almost a decade, if not over a decade, and you're extraordinarily reliable. Granted, I don't think I'd have anyone on the show that I didn't think was extraordinarily reliable, but you really are. You're a pleasure to deal with, you respond quickly, to your point of not having someone in the middle, it is great, particularly when the person who is representing themselves is on point the way that you are.
DG:
Thank you. It certainly gives you savings, and that should always be a part of any wedding planning. But it also gives you direct hands on experience. Sometimes, when you book with a large agency, you deal with one person, and another person shows up at your wedding. Someone you haven't even talked to is directing the band. But here, everything is concentrated in one or two hands. They are very much here for you to deal with. By the virtue of most of us being alums of Julliard School and other top schools in the nation, we have classical training as well as many, many diverse genres of music that we can pull in into an event that we're doing for you.
C&G:
Let's give our listeners a very specific idea of what those genres of music are so that they're clear, because obviously you and I know them. Can you specify, other than the classical and the klezmer, what other genres and specialties.
DG:
For instance, we just did a Bar Mitzvah in New Jersey about a month ago. The reason I'm pointing out that event is because the request was a bit on the unusual side. First of all, they wanted a great klezmer and a great horah. They also wanted some Bach played during the candle light, in addition to a symphonic piece by Paul Dukas from the "Sorcerer's Apprentice", for the Bar Mitzvah boy to walk out to. They also wanted rock and roll and great jazz. They had a budget for about five musicians total, for all of this. Normally, it's very hard to find five players who can cover all these genres. Normally, we have an accordion player in our klezmer band, which fits in the folk genre, but they were pretty much against an accordion. They didn't want to have an accordion because they didn't like it. We decided to get a keyboard, a great singer who was also a guitarist, I was playing different trumpets; a big trumpet for jazz and rock and roll, small piccolo trumpet for the klezmer. We had a great saxophonist who brought his clarinet, so he would double as a flute. We also had a drummer who played different ethnic percussions. By having in our arsenal musicians who are very versatile and can play a variety of genres equally great, we can cover a lot of different territory and are able to respond to spontaneous guest requests. So that's more or less it.
2. Manhattan Soloists
C&G:
Well, this is exactly why we wanted you on the show, just for that example. Thank you to the New Jersey Bar Mitzvah. But I think that highlights in its entirety why you're such a great group and the talents that you have. It's not just that you're great musicians with one, but that you have multiple instruments, multiple genres. So, let's go to Manhattan Soloists. Tell us a little about them, what they do, what their specialty is.
DG:
Manhattan Soloists is essentially a group with strings and a piccolo trumpet. When you walk out, you have a ceremony, bridal march, trumpet violin playing, "Here Comes the Bride"—it sounds the greatest with the trumpet and strings. It sounds almost like an orchestra, and the trumpet gives a really royal effect, which people love to hear, and they comment on all the time when they hear it. So, how many strings? On the demos, we certainly have four but we've done it with three strings and a trumpet as well. Generally, the more musicians you have, the richer the sound is. Sometimes we've done events up to 15 strings, so it all depends on your fantasy and your checkbook, and how much of a great statement you would like to make.
C&G:
I think I'm going to coin that phrase: "It depends on your fantasy and your checkbook". I hope you don't mind if I plagiarize you in using it. And I think Manhattan Soloists is a great thing. Typically, we don't see many quintets for "typical"; more average weddings will see traditionally a quartet for the ceremony and perhaps a quintet for the cocktails, but let's assume you double the quartet for both the ceremony and cocktail. What I'd like to give our listeners an idea of is if they hire Manhattan Soloists for the ceremony, the genre of music you can do for that, and they might say to you, "Oh, we want totally different things for the cocktail." How much range do you have, if you were to have three strings and the piccolo trumpet?
DG:
Well, in the years past, groups were doing standard classical things; more or less classical music, baroque music, romantic music maybe within the classical genre. Nowadays, we have certainly branched out and we play anything from jazz standards to Coldplay, tunes by Enya, and anything mentionable. I think we have done a wedding with you where we played an opening overture of The Fantastiks. So, there are a lot of things you can do. Also, a lot of your choices, as far as the brides go, depend on the number of guests and the space that you are trying to have a ceremony at. For instance, if you have a larger, outdoor space, you may want to consider, for the same kind of ceremony ensemble, having a brass because it will carry a little bit more. For more intimate ceremonies with fewer guests, maybe you would want strings. It all depends on the size and the acoustics of the space. We can certainly advise you on what your different options are. You can also listen to them on our website and decide for yourself.
3. Wholly Brass
C&G:
I think that's an excellent point. This leads us really well into Wholly Brass.
DG: Sure. Wholly Brass is a brass quintet or a brass quartet.
C&G:
And I'll just point out that it's "wholly" as in "whole part", not "holy" in the religious sense.
DG:
Yes, we have that joke where if we play in a religious institution, we take away a letter or two and make it more appropriate for a religious setting [laughs]. Wholly Brass can either be a quartet or a quintet, depending on the budget and your fantasy, and so forth. The more musicians, the richer the sound, as we pointed out earlier. This is also a group that has extensively traveled throughout the country, in addition to doing many, many weddings throughout the years, as well as concerts. It's a performance group as well and has consistent members playing together all the time. They have a very wide range of repertoire. We use this group a lot for all kinds of different ceremonies: corporate events and ceremonies, many end-of-the-year school events. The repertoire is anything from classical music to jazz. We have played songs like "Sweet Caroline" by Neil Diamond with a brass quintet, and it sounds great; we have done "Living on a Prayer" by Bon Jovi. Anything, really. A lot of rock and pop tunes. Michael Jackson goes great with a brass quintet. A brass quintet is really a small orchestra and it's a pretty big sound for just five people.
C&G: I totally agree with that.
DG: You can do a variety of things with it.
C&G:
When we look at all these different groups—and I want to talk about International Ensemble in a moment—how many band members are doubled, in one group or another, and how many in each have their own individual make up.
DG:
Some of the players serve a lot, especially with Watermelon Band, which is more of a party band, a reception band, really. So a lot of the players are either from Klezmer Band or Wholly Brass, depending on the situation, and we try to customize every single event we do because every single bride and groom has different ideas about what they want to do. For instance, just very recently, we had a wedding where a bride called me and said, "David, what I really want, because it's been a dream of my husband's forever, is to have four trumpets players in beautiful costumes, standing in a church in the aisle and just serenading." First, one trumpet player is playing some prelude music with the organist, and then four trumpet players in beautiful renaissance costumes playing a bridal march and then escorting and doing the whole ceremony. I said, "Okay, we're going to make it happen." Something like this can also be a very nice touch for your ceremony.
4. International Ensemble
C&G:
Unquestionably. It goes back to the idea of personalizing every aspect of your wedding, At the end of the day, if you're going to get musicians and you can create a way by which you personalize those musicians, whether it's in the costumes or the choice in instruments, it's an excellent way to put a mark on something that everyone does, but you can do differently. And I do think in that respect, again, you offer an enormous amount of versatility in what the choices are for that. So, let's talk a little about your International Ensemble. Now clearly David, for someone like you, we needed more than 30 minutes for a show. But given our constraints, let's talk about International Ensemble and then eventually we'll get to Watermelon Band because I have heard you do a lot, but I've never heard you do Top 40, so I am very interested. But let's start with International Ensemble. Tell us how they are different and what they offer that either no one else does or what's different from the rest of your groups.
DG:
Well, International Ensemble is very much an offshoot of Klezmer Band. What happened was, we started playing klezmers around 2001—well, the band was officially born then, but we certainly played klezmers before that. Once the band was born and once we played a lot of klezmer and started doing special events, more concerts and tours, and other diverse things, I would get requests. For instance, a call from a bride saying, "Hi, my name is so and so. My future husband is Irish, and I am Jewish. We love your band but would you be able to do Irish music as well as Jewish music and a lot of other things that we may request?" I'd say "Absolutely." Another bride came to me and said, "We're Jewish, but originally from Argentina and we love Argentine Tango. Would you do something by Carlos Gardel or Astor Piazzolla Would you do a dance, Bahía Blanca, for us?" "Absolutely. Let's do it." It sounds great, it's great music; any music is great, really, if you do the best that you can. So, we've started expanding into all kinds of sub-folk genres like Argentine Tango, Greek music, Irish music. For Greek music, we had a husband who was Greek and Jewish, so we brought in a bouzouki player as an addition, and it was great for him to join the band. It was beautiful. We expanded to Italian music, French music, even German Umpapa Oktoberfest Music. That's actually one of our newest projects. I don't think we've even talked with you about this.
C&G:
No, so David, you know what I'm going to request, of course? That you put an audio up of that on our Facebook page because I'm sure everyone wants to hear it as much as I do.
DG: Sounds good, we'll do that.
C&G:
Clearly, what I think you've done with these bands and what I've seen you do in individual events is, you react to what the market needs. You react to what the client needs, and I think the International Ensemble is the perfect example of that. It's really interesting, and I think the big thing is—and really, what I'd like for our listeners to take note of—that not many people can do that. Not many people can say, "Sure, we can have this, this and this from six different countries", and have that versatility, but also do it really well. So, I would encourage you to think outside the box, from listening to the show with David, and really understanding what the possibilities are. Make sure of that, whomever you might be calling. David and your group, you do travel, but if you're not able to, as he said, have fantasy and checkbook meet, then really consider how you listen to the band. Make sure if someone says, "I can do all these genres" –because I'm confident that David can, I've heard him do most—make sure that if someone says, "I can do Irish, I can do Argentinean, I can do klezmer", that they can actually do it and you're actually hearing soundtracks of that. There are very few groups I would argue in the world, not just the US, that can really pull that off well, and in a way, and David would know this more than I would, usually when you have an Argentinean groom and a Jewish bride, or a bride who wants the klezmer, they know what they want. The guests there that are from Argentina are not going to appreciate a cover band that's just sort of good at Argentinean music, or sort of good at Irish music. They really want someone that's going to do it well. That's another thing I'm going to argue: if you're going to do something, make sure that you're doing it exceptionally well, otherwise, don't bother. Go the route that everyone else does and make that better than trying to get special and intricate and not really succeed too well in it. On that note, tell us about this Watermelon Band that apparently does Top 40.
5. Watermelon Band & top 40 hits
DG:
Yes, this is one of the newest projects of ours, but it's also been running now for several years, and really successfully. What I did is actually, since my particular level of expertise doesn't come necessarily from Top 40, and I was a student of all the diverse genres of the last 50 to 60 years or more, I went out of my way and recruited the best singers and musicians who know this music well. I took musicians who've done it for 20, 25 years who know it so well that the results were really nothing less than extraordinary. When someone plays the music for so long and knows it so well, it really translates, in addition to also knowing how to present this music in an entertaining fashion. That's a very important aspect. The most important aspect of any party is having a great time and that's what we want you to have. We want you to have a great time with one of our groups, hopefully.
C&G:
Now, let me ask a question: you're saying they know this music, how quickly can you recalibrate if someone wants—and I hate to use this example, but why not, everyone else is—"Call Me Maybe", how quickly can you recalibrate? If you hear a song on the radio and someone requests it, is Watermelon Band able to react to that immediately?
DG:
Well, first of all, we have a very, very large repertoire. Every single imaginable thing you may ask, we probably already have. If we don't know something, we will learn it. That's not a problem, and we don't charge anything extra for this or anything related to that. We don't have any problem learning new songs. If anything, it makes our band better and more marketable the next time around we get booked.
Conclusion
C&G:Well, you've always had a very practical side, I love it. David, you're going to have to make sure both are on our Facebook page, if you would, please post a clip of your German music, and I'd love to hear a Top 40 cover from your Watermelon Band as well, as would I'm sure our listeners. Thank you so much for joining us today. There's so much more we could talk about, of course.
DG: Thank you.
C&G:
But for those who'd like to learn more and contact David directly, his website again is www.glukh.com. He'll be positing on our Facebook page over the next few days, so you'll be able to follow him there as well. Please join us next week. We are not going to be on at noon next Wednesday; it will actually be noon on Monday, July 16th, as we're traveling on Wednesday, but we'd love to have you join us. We are continuing our Summer Music Series, and the segue develops beautifully because this is a group that focuses primarily on Jewish music, and so we'll walk through with them more on the reception side than anything else, but continue the conversation about how to really personalize your music and make it be what you'd like. Have a great week and thanks for joining us for the black and white of wedding planning.