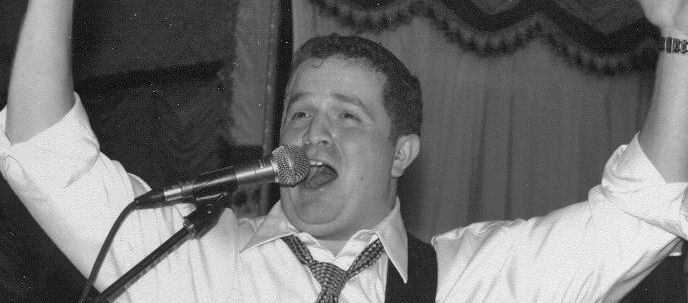 Show Date: Monday, July 16, 2012
Our Summer Music Series continues with a one stop band for anyone who wants Jewish music and everything else. Desperate to have Klezmer and U2? Need a great Hora only to rock it out to Pink later? Then this is the band for you to consider as Dov Katz of Neshoma Orchestra and SoZo Live shares his secret for giving you more than just one type of music and doing it well. Join us at 6pm on Monday, July 16th (yes, a different time for us) as we learn how you can find "Od Yeshoma" and "Let's get this party started" in one place.
_________________________________________________________________
Interview with Dov Katz of Neshoma Orchestra and Sozo Live
Introduction
C&G:
Good evening, thank you for joining us. It is July 16th at 6pm and we're here with our weekly radio show. This is Jeannie Uyanik of C&G Weddings. We've changed the time a little bit but I'm glad to see that there are a few of you that have found us at this off time. We're continuing tonight with our Summer Music Series. Last week we had the privilege of speaking with David Glukh about some of his wonderful international ensembles, including klezmer music, and we thought it would be a perfect segue to not only jump into talking about the music you might have for the entire evening with a band, not just for a reception if it's a wedding, but for any kind of event: corporate function, or not-for-profit. And we thought we would segue perfectly with a wonderful group that does a lot of Jewish music, but also has infused a lot of the more popular sounds that couples might be looking for outside just one cultural or religious realm. In that vein, I am very fortunate today to have as my guest Dov Katz of Neshoma Orchestra and Sozo Live. Dov, thanks so much for joining us this evening.
DK: Thank you so much for having me on your show.
C&G:
Well it's a pleasure. And as I said, I think I've just been brilliant [laughs] in my segue of having a group last week that does a lot of the klezmer for, at least what has traditionally for us been the cocktails or the ceremony, and really what you do is run the gamut of it through the reception. So if you can, first give us a little bit of background about you and how you got started with the group because you've been a musician for what seems like forever and also have been with Neshoma for quite a long time.
DK:
That's right. I've been playing at weddings now for about 18 years. I've been with Neshoma throughout that time, originally just started as a regular old musician/guitar player and worked my way up to band leader. At this point, I'm Director of Sales and run our office, so I see the whole gamut of the business; from dealing with our clients from, "Hello, how are you?" to actually performing, leading at their weddings, as a band leader, as a musician, as an event coordinator. It's been a wonderful, wonderful experience.
C&G:
And it's great that you have both sides of the industry really in your back pocket when you do that. One of the great ways that you approached us, which was perfect, wasn't just saying that you're a great musician but you offered us chocolate rugelach so you are indeed very smooth in doing your job and then knowing the other end of it. From that perspective, tell us about your involvement with Neshoma, what that orchestra really focuses on, and give our listeners an idea of what your specialty with Neshoma Orchestra is.
Neshoma Orchestra: a long-standing tradition
DK:
Sure. Neshoma's been in business now for about 30 years. It was started by Michael Sojcher and Elly Zomick, the two owners of Neshoma, with the goal of creating the best product in New York; a home for the best musicians in New York to provide a top level of musical as well as professional services to our clients. Meaning, it's not just about the music that's performed, but it's about the way that affairs are prepared, the way a client is dealt with. That was really their goal when they started the Orchestra, to provide the highest level of all aspects of a performance at a wedding. About 5 or 6 years ago, we started realizing that we're getting more and more calls from our clients for not only the Jewish music that we had been doing all along, but for a lot more American music. And there used to be affairs where we'd have one American dance set that turned into affairs where we're having 2 and 3 American dance sets; even where most of the music at the affair was American music, and only a little bit of it was Jewish music. So we went out and created this other band called Sozo Live which really focused on our American music performance, and between our Neshoma product and our Sozo Live product, we are covering the full wide range of the musical affairs that are taking place today in the New York area. We have affairs where all the music we're performing is Jewish music, either Israeli music or other aspects of the wider Jewish ethnic music mix, which we'll get into in a moment, as well as affairs where we're playing a very short traditional Jewish music hora set and the rest of the affair will be a mix of 70, 80 years of American music, from Sinatra to Lady Gaga to everything in between.
C&G:
And one of the most important things I want to point out in your having done this is that it really does meet a key segment of the market that doesn't necessarily exist well. We have a lot of couples that would like to do more than just your 20-minute hora or 30-minute hora, that really do want representation—either culturally or religiously—of some of the Jewish music that they love, they've grown up with, that they've had experiences with at other events, but 4 hours of that may be too much for them, so the idea of being able to balance really great Jewish music for more than just that 20-minute segment, and being able to do that for an hour—for 2 sets, 3 sets worth—and still have your fun stuff is key, and what the market was really missing. So I really want to make sure that people focus on that. I'd also like to make sure that people have your websites for both the groups, which really do operate very separately. The Neshoma Orchestra website is: www.neshomaorchestra.com, and the Sozo Live, which is really reflective of this mix of music that we've been discussing, is www.sozolive.com. So why don't you walk us through Neshoma first. Walk us through what their typical lineup might be for a 4-hour event, if you would.
DK:
Well our Neshoma clientele really spans the gamut of the greater Jewish New York area, even the Eastern seaboard, but we do perform all over the country. But your typical event that we're going to do is going to have a mix of traditional Jewish music; a little bit of klezmer, a little bit of classical, a little bit of Israeli. There are affairs that we're going to do where we're doing the latest and greatest Hasidic pop; there's a whole repertoire out there of brand new songs that are coming out on a weekly basis almost, as opposed to what a lot of people grew accustomed to in that Shalom Aleichem and what we would call the American band traditional horah set. We've really taken that to the Nth degree with modern music coming out on a regular basis, both in Israel and the United States. There are affairs that we do where the material is a representation of classic songs that people grew up with going to camp, going to school, singing in their synagogue youth choir, and then there are affairs that we'll do the latest and greatest classic pop. There are several groups out there that appeal to different audiences, similar in the American music scene. You have your teeny-bopper kind of music, and there's that whole genre of music within the Orthodox Jewish music scene. There's also a whole new slew of Israeli artists, who have come online with what I call a world music kind of view, people like Idan Raichel or Yael Milan. A lot of songs that are out there in the general music scene have made their way into the wedding scene. So there are a lot of affairs that we're going to do where the music can literally run from one end of the world to the other, and late 1940s literally to songs that are coming out today, all Jewish music. That's a pretty incredible thing. And then, you have the whole other end of the gamut, which is our classical repertoire, our American song repertoire, our Broadway repertoire. There are a million different styles of music that people choose from; both for their ceremony for the background music, for the listening music throughout dinner, all within the context of a Jewish music affair, meaning whether the dance music is all going to be Jewish music, no American music, but the overall musical spectrum that is covered will literally cover around the world and many different styles of music. One of the fascinating things about Jewish music, and frankly about the Jewish people, is that while we're all one big happy family, you may have Jewish people that come from Brazil, or Iran or the Persian end of the world, or France. They all dance to similar kinds of music, yet our homelands, our ethnic music where we're coming from, very often will influence some of the kinds of music that we'll do. There are affairs that we will perform at where we will play 10 minutes of Farsi music and 10 minutes of some salsa music and 10 minutes of French waltzes simply to cover the different aspects. It's almost like the United Nations of music all in one shot.
C&G:
So I think for our listeners, what you're going to have to do for us, if you would, on our Facebook page, is post little audio clips of what you're talking about because I'm sure some of our listeners would love to hear Hasidic pop and some of the more contemporary Israeli singers that are coming out with this stuff. It would also be great because we find that many couples, and you and I have had this discussion in the past, are a little bit more into having that Jewish music represented throughout the evening, and vice versa where you'll see families more into it than the couple are. And it's amazing to me once they actually hear what the possibilities are. I mean, you're talking about such a wide range of music that is still just Jewish music. This is where people might have a preconceived notion of what something might sound like for 4 hours and may not really understand the spectrum of possibilities. So if you would, on our Facebook page, follow up with some audios that you think would be interesting for listeners to hear, that would be great. And speaking about the difference between families and couples, what are you seeing now? Do you see a lot of the parents and the children wanting the same thing, or are you still having to play that very fine role of finessing who gets what when? What's been your experience over the last year or two and how has that differed from what you used to see?
DK:
Frankly, most musical vendors, or all vendors, are going to answer this question similarly. I often tell people, making a wedding is one time where you'll have essentially a business deal being created between three parties, of which two of them didn't pick each other—the bride and groom picked each other, but the two sets of parents did not. They're the sets of parents and they're spending a lot of money together, and sometimes everything's great and everyone has similar ideas, and sometimes people will get into major arguments about what color the napkins should be, which is more your department than mine. Having said that, we're seeing more and more of this fine line that we have to tiptoe across- making the kids happy, making the parents happy, making the in-laws happy, and you know, even making Old Bubby from Uzbekistan happy if she wants to hear her 5 minutes of traditional whatever music. So it is something that we have excelled at, and because of the multiple styles of music that we can perform in one band, it really is something that we think we are the best at. The way that right now people who in the past, would have a Syrian girl would get married to a Syrian guy. Now you know what, the kids are in high school together, they've been friends for 10 years, there's this kind of intermarrying of ethnic communities that didn't use to happen. People used to marry from within the country their parents came from. Now there are people from all over the world marrying each other, and between communication and schools and camps and different things, there are different interactions among the different ethnic groups within the Jewish community that didn't use to happen. That really allows for a smorgasbord sort of music to take place, at any given wedding, where, as I said, you'll have the United Nations of music taking place within a span of a half hour. It's really amazing.
C&G:
It is. And I think you know, and I don't say this lightly, that you're extraordinarily diplomatic. I think that's one of the things where if we tell people what they should look for in hiring a band, it's not just great musicians—which obviously you're going to get with Neshoma Orchestra or Sozo Live—it's also that ability to have someone who's managing the reins and understands the intricacies of putting together a 4-hour music schedule and who can manage all the parties. That is something that you guys do extraordinarily well. Again, I repeat, I would not say that, nor do I say it lightly. Let's talk a little bit about Sozo Live, and how their lineup differs from Neshoma Orchestra.
Sozo Live: a little taste of modern
DK:
So, we really noticed this kind of turn within certain segments of the community. Either it was an affair that 5, 6, 7 years ago, would have had all Jewish music with a little bit of "Twist & Shout" kind of rock and roll at the end, or an affair that would have had no Jewish music whatsoever and now is going to have a 45-minute hora set and is going to end with a Mezinka Dance for the parents. There are certain segments of the community that now need a much bolstered American music component as well as a real legitimate Jewish component, more than your "Hava Nagila"—which is a song we never play, by the way. I know most people think, "You're doing a hora, you've got to play Hava Nagila", but we never play that song.  But having said that, we went out and really got some new talent into the band, as well as a combination effort of how we're going to deliver this product to this client where we're going to be doing some Lady Gaga, Rihanna, Black Eyed Peas as well as some Sinatra and swing, but we also need a cantor for the ceremony, a Klezmer group for the cocktail hour, and we need to play some Broadway music during dinner. How are we going to deliver that in one band without them having to have 30 musicians there, without them having to hire 3 or 4 different bands—so that was the point of Sozo Live; to deliver the greatest, latest, best contemporary product in the New York area, in terms of American music, but at the same time, give the Jewish music the same care and attention that we've given it through all these years at Neshoma. And there you have Sozo Live.
C&G:
Now let's talk about the breakup of the two different orchestras. In an ideal world, how many musicians come with Neshoma Orchestra and how many with Sozo Live? And I'm assuming that the cantor is not going to be one of your musicians.
Deciding if Neshoma Orchestra or Sozo Live is right for you
DK:
Well, actually at a lot of the affairs we perform at, the cantor is our singer for the Jewish affair. It is both a service we provide and something that people really want. Our vocalists are real showstoppers and it is something that people come to us for because we have a staple of singers that have been working with us, some for many years, some for a short amount of time, who have developed a following within the New York area as being excellent vocalists who could provide a real soulful, beautiful ceremony, as well as a real rousing, hanging-from-the-ceiling hora. Now in terms of how many musicians each group will need, that's really a musical question that is answered by the following questions: where is the affair taking place? How many guests are you having? What are the different styles of music that you need? An affair at the Waldorf Astoria, where we're playing American music, as well as traditional Jewish music, as well as some Israeli music, as well as doing a 30-piece violin string arrangement for the ceremony, will obviously require a larger band than in a small country club where we're going to be doing a little bit of traditional music and some fun rock and roll. Your average band size can vary, depending on the number of guests at the event, depending on venue, as I said. It varies somewhere between 8 musicians to 12 and up. And then of course there's the listening music component: do we have a string section, do we have a string quartet, do we have a violin, do we have a harp and two violins? All those questions get answered on an individual musical basis per affair. Somewhere in the neighborhood of 8 and 12 musicians, and obviously we've hired up to 57, but that doesn't work for everyone's musical or budgetary needs, but we have had it in the past.
C&G:
I can imagine. And do any of the musicians from Neshoma Orchestra also play in Sozo Live or are they totally separate?
DK:
No, we actually do have some guys who will straddle the line and go back and forth between the two orchestras. Some of our musicians perform both Jewish and American music equally well and will be on both affairs, obviously not at the same time, but some of our musicians do do that. Certain guys are specialists in what they do, but some of our musicians do go back and forth between the two groups.
C&G:
And what's the process; let's say somebody's listening to this show and says, "I've got to call Dov". What's the next step, what happens? What's interesting is, on your website, if one were to go to that, again, it's www.neshomaorchestra.com, you have a video channel where you're showcasing some of the music and how it sounds. On the Sozo Live you don't yet, but I'm sure, knowing you, it's going to be up there sooner rather than later. But how do people get to know and feel whether or not either orchestra or either band is good for them? What is your process?
DK:
Here's how our process is, and this may actually surprise you. Our Neshoma product has been in existence for 30 years. Most of our clientele know who we are, know of our reputation, know of the clients we've worked for. Sozo Live is newer, and I have found that with throwing videos up on the internet, you don't know what they're looking at, you don't know what they're hearing. What I like to do is when I get that first call is say, "Where can we meet? When can we meet? Wherever you want, whenever you want". I've had meetings literally as late as 2:00 in the morning and I've driven as far as Boston and Southern Pennsylvania to meet with people. Once I had a ticket booked to go to Florida, but that wedding ended up not happening. I will go wherever and whenever it is. I sit and I meet with my clients and it's not about me giving them a sales pitch about who and what Neshoma is; that's the last thing. First thing I want to do is, I want to know about you. I want to know about the logistics of your event, who is going to be there, who are we performing for; is it 200 of your parents' friends and 20 of your friends, or 150 of your college friends and 20 of your parents' friends? Those are very different kinds of crowds. I want to know who the caterer of the event is, I want to know who the event planner is. Why? I want to know who we're working with; if it's somebody I know I'm going to get a schedule from 2 months in advance of the event, or who during the event is going to say to me, "I need another half hour because the check-in's not ready". I want to know where the venue is, who you're dealing with at the venue, how many hours you're expecting your event to be. And then, we walk through the music of the event. That's kind of the last thing I do at my meetings. People often ask me, "Why are you asking all these silly questions, like if my dress has a bustle, and things like that?" There's a lot that I know and learn about my clients, based on years of experience and kind of a systematic question and answer that we have. Not an interview process, just really trying to get to know each other. As I learn more and more about the event, I can then say, "You know what, I think musically you need X; you may need our Sozo product, you may need our Neshoma product, you may need an 8-musician band, you may need a 10-musician band, or hey, wouldn't it be great if we had X, Y, and Z". I recently met with a client who, out of the blue, started telling me that they liked Paul Simon and the Graceland album. I happened to have a musician who worked with us over the years who was the woodwind player on that album and who has a South African music group in the New York area. I suggested to the client, "Hey, wouldn't it be great if you had South African, Zulu, etc, music playing during the cocktail hour, a la Paul Simon's Graceland album?" They loved it! It's a totally off the cuff idea, something out of left field, and it hit a sweet spot. So the process is: we get together, we learn a little bit about each other, I get a keen sense of what the client is looking for musically, we develop a plan together, and then, while I'm there, I'll show them whatever videos they need to see. We have a ton of different demo material, we walk through it together and explain this is this style of music, this is that style of music, this is where the singer goes out into the audience, this is where the singer doesn't go out into the audience—which is funny—this is something I hear often from brides and grooms, they either absolutely love that or they absolutely hate that, I don't know why.
C&G: We find the same. It's very polarizing.
DK:
I can't explain it. There are certain songs, that produce a similar result, like, "Oh you've got to play Love Train" or, "Absolutely don't play Love Train". I can't explain it. Same thing with what the band does; "I very much love when the singer comes out on the dance floor" or "I hate it". You can't explain it all the time, but that is our process. And then, I'm not sitting there going, "Okay, it cost $3000, $10000, $20000, whatever it is, and there's a contract to sign". I don't do that. I will get back to the client with a written proposal with Option A, which will cost X, and Option B, which will cost Y, and we work with our clients to come up with something that works within their budget and works within their plan for their wedding. Sometimes people, as they're talking to their vendors, I'm sure you find this all the time, people start at A and end up at Z, in terms of what they think they're going to spend or what they think their vision for the party is and what they actually can afford; two very different things.
Viewing live/video performances
C&G:
I think you're right, Neshoma has its own reputation, it's been around forever. But for Sozo Live if someone says, "I really want to hear the music" or "I want to see the musicians", what do you do at that point to give them more exposure beyond just, although meeting you would be wonderful, beyond just having that face to face time with you?
DK:
Well we do have video that I show in person. You know people always ask, "Can I come to a wedding?" and you know what, it's a very interesting and tricky thing because, I don't know, would you want someone else coming to your wedding and standing there and gawking? And they'll say, "Oh I'll come dressed, I'll look like a guest". Yeah, but then you stand there holding your coat during the winter because you're afraid to check it, so everybody knows that you're visiting. It's a very, very tricky thing. We try when we can; when it's agreed upon by the caterer, facility, client, to have someone come hear the band live, but it's a very, very complicated thing. However, we do have plenty of live video, and when I say "live" video, it's not video that was shot at a soundstage and then dubbed over vocals and re-recorded. This is live, from a live wedding. You can see the crowd there, you can see the band; completely live. That we do show to our clients to give them a sense of what the band is about.
C&G:
Which is great so that they'll be able to really understand what they're getting into. And I think when you were speaking you made two exceptional points that I really want to highlight. One is the idea of really asking about whether or not the singers do come off the stage—it's a material point. You are our first interview in our Summer Music Series really dealing with reception bands, more bands that will play for 4 hours with dancing, and it's just so important. I think it's one of the most important things that could come out of this portion or segment of the series, so thank you for bringing that up. But the other thing is, this idea of, "Can we see the band live?" It's one of the most often-asked questions that we get and it's one of the areas and questions where there's a lot of pushback and there's a lot of anger when the answer is no. I would say 99.9% of the time it is no, not only for that reason—you really don't want someone else coming to your wedding and listening to the band when you paid all this money to have this be a private affair. But most importantly, even in cases where a venue has let someone do a walk-through, not just to see the band, I mean you can't control what people wear and if you're having a black-tie affair and someone thinks that they're dressed in what I'm sure would be a lovely fashion for them, but very different for you. I mean these are things that no couple should have to deal with. So I think it's my job during this music series to jump in and say, "Look, these are things that are reasonable. Not being able to see your band play live at someone else's wedding is reasonable". It is really, to the extreme of that, NOT reasonable for one to assume that it should be a given right. And it's something that I hope is one of the biggest takeaways that people get from the series. A lot of bands will do showcases, more established bands don't need to, won't cant, don't have the time. But at the end of the day, this is how everyone else picks their band, you're not the only person seeing a band on video or hearing them play, not getting to see them live, so don't be disappointed and don't hold it against the groups or the band leaders themselves. As we sort of wrap up our conversation about Neshoma and Sozo, what do you think are the two most important things for people to consider in hiring either band?
DK:
One of the most important things to consider, as with any of the vendors you're going to deal with, is a certain comfort level that you're going to establish with the people that you deal with. Sometimes people ask me, "Which is the better singer?" Singers are like ice cream, they're all good, but you may like Mint Chocolate Chip, I like Rocky Road; I may hate Mint Chocolate Chip and you hate Rocky Road, so it's really a matter of personal taste. Find a band, whether it's Neshoma or Sozo Live, that speaks to you. Both in how they deal with you, how they answer your emails, do they answer your call—that's something that a lot of vendors in the wedding business are terrible at: customer follow-up, customer contact. When you say to them, "It's very important to me that X, Y, and Z happens", at that first meeting, when somebody says, "You know my grandfather wants to sing this song", do they remember that 3 months later when you're sitting at the prep meeting? Deal with a vendor that you are comfortable with, deal with a vendor that has a proven track record. And again, doesn't have to be us, but deal with a vendor that is going to fulfill your needs. If you're looking for a swing band, don't hire a rock band, if you're looking for a rock band, don't hire a swing band. Deal with a band that speaks to you; both musically and as a customer, the way that they deal with you—the most important thing. You know, everybody, when they get married, their wedding is the most important wedding going on, obviously. But you've got to realize that the band you're dealing with is dealing with several other clients who have their wedding and that's their most important wedding that they're dealing with. So you've got to be sure that your band can both handle it and be responsive to you as a bride and a groom because, frankly, it is your big day. You should be number one on their list, you shouldn't have to hear, "Oh I was so busy last week I couldn't talk to you".
Conclusion
C&G:
I think that's excellent advice and that's a pet peeve of mine when anyone says that to a client or dares to even think it because at the end of the day there should be nothing more important. Dov thank you so much for this exceptional roadmap in our first conversation with a real reception band during our summer music series. Thank you for joining us, and next week, joining us on the show, back to our regular time, July 25th at noon, is a band that you've actually worked with many times before to provide the Jewish music, Harris Lane of Hank Lane Music and Productions. Thank you all for listening in this week. Thank you for joining us for the Black and White of wedding planning. And Dov, I think we'll probably have to get you back on the show anyway sometime soon. Have a great week we'll be back next week.
DK: Thank you, thanks Jeannie.