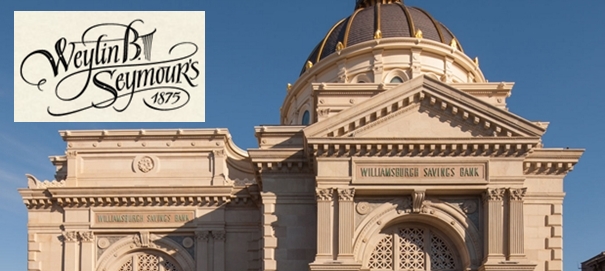 Show Date: Wednesday, April 2, 2014
The Wedding Jeannie's Spring Venue Series Continues with Weylin B. Seymour's!
This week we highlight a spectacular new venue that is somewhat of a hidden gem, but not for long! Weylin B. Seymour's, historically the Williamsburgh Savings Bank, is one of the most exquisite venues in Brooklyn. The venue, built in 1875, still boasts stunning original architecture (including the teller booths!) but the restoration gives it a modern twist. Beyond bringing old world elegance to Brooklyn in a 21st century way, it also allows for greater capacity numbers than many Brooklyn venues, not to mention the high end catering that we are all expecting to hear about on the show..…..
We will chat with Carlos Perez San Martin, who runs the venue, about its fascinating history, the story behind the new name, their entire private events process, and much, much more!
Join Jeannie Uyanik live at noon on Wednesday, April 2nd for another exciting show in the series!