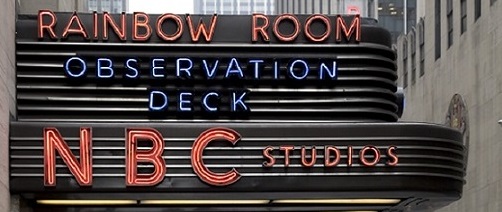 Show Date: Wednesday, May 28, 2014
The Wedding Jeannie's Spring Venue Series Concludes another New York icon, The Rainbow Room!
This week we reach the second to last episode in the series as we go inside the grand re-opening of the legendary Rainbow Room. The Rainbow Room first opened in 1934 on the 65th floor of "30 Rock" – 30 Rockefeller Plaza. The original city staple is back and better than ever; it still has the incredible views, that famous crystal chandelier, and the revolving dance floor, but it's been updated to reflect the modern era while maintaining the original timeless glamour.
We'll talk to Keith Douglas, Managing Director, Rockefeller Center, about the architectural updates, the new menu, the new cocktail lounge on the 65th floor terrace, but that's just the beginning! We can't wait to discuss all of the new details of the old classic!
Join Jeannie Uyanik live at noon on Wednesday, May 28th!
Online Lifestyle Radio at Blog Talk Radio with
WeddingPlanning
on BlogTalkRadio