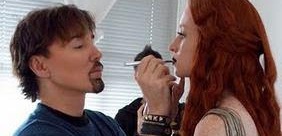 Show Date: Wednesday, November  14,  2012
Fall Beauty Series Continues with Celebrity Makeup Artist David Maderich!
This week on The Wedding Jeannie we chat with the very talented David Maderich. He has been a makeup artist for over 20 years and has helped perfect the faces of many celebrities, including Prince, Bruce Springsteen, Giselle Bundchen, Brad Pitt, Carmen Electra, and Meg Ryan – to name a few.
His work has also been showcased in numerous renowned publications, such as Vogue, Elle, GQ, Esquire, Rolling Stone, and The New York Times, and he's done advertising work for major brands and department stores, including
Bloomingdale's, Neiman Marcus, Timex, and Macy's.
To top it all off, he is a regular contributor to many beauty blogs and writes a monthly beauty column for celebrityeverything.com. David certainly knows how to accentuate beauty, and he'll share his tips and tricks of the trade with us this week!
Join Jeannie Uyanik live at noon today for another show you won't want to miss!