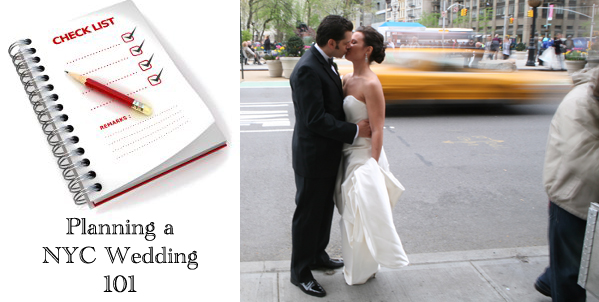 Thinking about getting married in New York City? Congratulations, now let's talk! There are a number of things to consider when planning a wedding in the city and we are here to help you work through all of them. Nobody likes to talk about money, but, if you want to get married in NYC the first thing you need to consider is budget.  We all have heard the rough range of averages when getting married in the US – national averages are in the range of $19,000 to 27,000 but interestingly, they almost never indicate associated guest count, a fundamental measure of a true wedding budget.  So let's debunk some myths.  Generally, when people speak of budget, and particularly when considering NYC, its important to consider the following factors:
1)  Guest count
Look at your list of invited guests and assume that attrition will be at least 20% – this will help you figure out what your space constraints are (minimum amount of space needed) and what your guarantee numbers with a venue (the number of people you agree to pay for at a minimum) should NOT be above – because you don't want to pay for people who are not going to come. And space in this city is not abundant so you are charged for every tiny inch you need.
2)  What do you imagine being included in the budget
Generally when WE talk about wedding budget, we refer to all costs for the day of the wedding (i.e. NOT the honeymoon and NOT the rehearsal dinner).  We also don't include the groom's clothing and the wedding rings, simply because those two line items not only vary so greatly in cost from one wedding ot the next, but also because they are most often not items that many couples/families include in their own budgets.  We do include the bride's entire trousseau (including dress).
3)  What's your target budget for the wedding
Depending on who is paying for the event, or contributing to it, its important to understand the funding sources and amounts up front and BEFORE considering any purchases. Know what you are dealing with and set a firm number that either is comfortable for you all, OR that is a target with X amount of wiggle room.  Be clear on the amounts and the contributants from all sides.  There's nothing worse than starting to search for venues in this amazing city only to find out that you really can't afford half of them.
Once you have clearly arrived at answers for the above, its easier to understand if you can or cannot afford a wedding in New York City.  The average budget (using the parameters that we outline in point 2 above) for a comfortable NYC wedding for 125 guests is above $60,000 and more often than not falls in the $75,000 range.  This assumes that you are not struggling to make choices in any one particular area (i.e. photo, floral, venue, etc).  When couples and families ask us what kind of a budget they need to host 200 guests comfortably in New York City, the answer is a resounding $125,000 and up – and that's the MINIMUM number for 200 guests.  In the absence of this amount, you really have to be willing to compromise.  At $150,000 for 200 guests, things start to get easier and you are making choices at the point based on what you want, not the budget.
So if you have a budget of $25,000 – do people get married in NYC at that price point?  Absolutely, but they are doing it without ANY frills, with much smaller guest counts (50 and under) and at off times of the year or week (i.e. Jan/Feb weddings, Friday or Sunday day events, cocktail type food rather than a full sit down meal and 5 hour reception, and more do it yourself items).
Interestingly, one common misconception is that weddings outside the city (i.e. in the immediate vicinity or 45 mile radius) are automatically cheaper.  While you may get more bang for your buck, at the end of the day, everything is relative and there are hundreds more venues in NYC competing for your business than there are in the suburbs so pricing can be at a premium for the best venues that everyone is chasing.  Additionally, if you are planning on transporting your guests from Manhattan to any bourough or destination outside the city, the cost for doing so is often in the thousands, a shock to many couples after they have already booked their venue.  If providing transportation is non-negotiable be sure to get quotes from companies in advance to be able to add that to the budget.  Make sure to compare apples to apples and also to look at venues both in NYC and the surrounding area IF the only reason that you are considering a wedding in the burbs is to save money.
Other issues to consider when you get married in NYC
Beyond budget, there are two other issues to weigh when considering an NYC wedding.  The first is whether or not you want a real wedding weekend.  If you live and work in the city, and so do most of your guests, then the likelihood is high that they will attend the wedding day festivities, but there is not going to be the elongated festivity feel that comes from having everyone in ONE place from Friday night to Sunday morning.  Consider whether its important to you to have a more drawn out celebration, or if you are ok with people coming to the ceremony and leaving after the reception ends.
The final issue to consider is that getting married in NYC means more rules, more traffic, more general restrictions on noise, start times, end times, travel, traffic, etc.  We don't say this to scare you, but if you want to get married in NYC you have to be aware that the city that never sleeps, does not even blink when you decide to get married in it.  Life goes on around you and working your wedding around that versus getting married at a secluded estate where group photos can happen anywhere you want and at any time, is an important thing to be ok with from the start.
There's nothing better than a wedding in NYC, expect a happy couple.  And ensuring your happiness really means understanding what will get you there and what's important to you along the way.