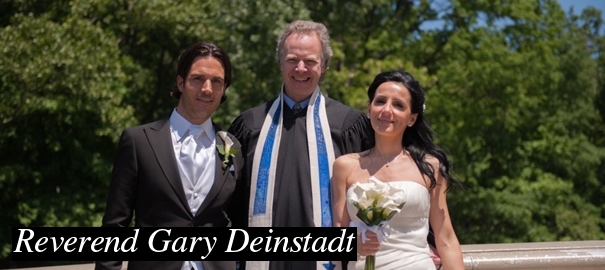 Show Date: Wednesday, May 22, 2013
The Wedding Jeannie's Spring Officiant Series Continues with Interfaith Minister, Reverend Gary Deinstadt!
This week we chat with another incredible interfaith officiant, who happens to also be an Emmy award-winner with an extremely decorated music career. Rev. Gary Deinstadt found his calling from the young age of 13, and since then he remained in the ministry, and went on to become an ordained, seminary-trained minister. He brings a unique perspective to his couples because he merges his love and understanding of music composition with his desire to create a loving, open, and caring atmosphere for his couples.
All of his work is highly personal; it is important to him that each couple's love be reflected in a unique way. He's performed all types of ceremonies, from non-religious to interfaith, vow renewals, weddings, and everything in between! He will tell us all about his work, some of his most memorable ceremonies, tips for couples looking to hire officiants, and much, much more!
Join Jeannie Uyanik live at noon on Wednesday, May 22 for another show you won't want to miss!